Fuel Hose Fittings
There are many types of fittings for fuel hoses that we stock, from quick couplings, hose tails, swivels, non return valves, ball valves, gate vales and breakaway couplings.
They are suitable for many different purposes but all will attach to any hoses we sell.
Cam & Groove quick couplings
These are designed to be attached to either end of the hose and the mating part to the pump or fuel tank. They make it easier and quicker to attach or detach the hose from fuel transfer devices or storage tanks. Available in both 1 inch and 2 inch.  Made from high quality pressure cast aluminium. There are also dust caps and dust plugs available for each size of coupling to prevent ingresss of foreign objects while the hose is disconnected.
We supply these in various types (male/female) and two different sizes 1″ or 2″. Click the image below to buy Cam & Groove quick couplings.

Hose Tails & Swivel Hose Tails
We stock a wide selection of hose tails and swivel hose tails for most sizes of hose and fitting. These include tapered hose tails for easier connection to tight threads.
Fixed hose tails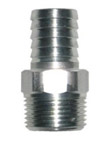 1″ Fixed hose tail – parrallel thread

1″ Fixed hose tail – tapered thread

1″ x 3/4″ Fixed hose tail – parrallel thread

3/4″ x 1″ Fixed hose tail – parrallel thread

3/4″ x 3/4″ Fixed hose tail – parrallel thread
Swivel hose tails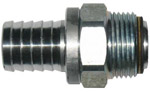 Available in two different sizes and material:
1″ BSPM threaded x 25mm (1″) Hose Barb made of Aluminium

3/4″ BSPM Threaded x19mm (3/4″) Hose Barb made of Stainless Steel
Swivel joints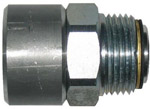 These are often fitted between the end of the hose and the nozzle so that it can be twisted around to the correct orientation; however, this can also be fitted in other locations, such as on the end of the hose next to the pump, etc, in special circumstances.
Unless specifically stated, these may be made of Aluminium, Mild Steel or Brass according to what material is available at the time of manufacture (all these materials are suitable for use with diesel).  If you are using Adblue, Water or some other Chemical then you are likely to need Stainless Steel.
3/4″ BSPM x 1″ BSPF

3/4″ BSPM x 3/4″ BSPF

1″ BSPM x 1″ BSPF

1″ BSPM x 1″ BSPF (Stainless Steel)

1.5″ BSPM x 1.5″ BSP
Non Return Valves and Strainers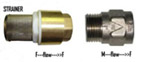 Non-Return Valves are fitted in the end of the fuel line to prevent fuel running back out of the hose line. These are essential for use where the pump requires an initial prime to get it working and you wish to maintain the prime thereafter.
There is a separate strainer basket available for the 3/4″ and 1″ F-F NRVs.  These Strainer Baskets are Male threaded to fit into the inlet of the Female threaded NRVs.
All threads are BSP and the flow direction is either Female In and Female Out or Male In and Female Out,
Sizes available from 3/8″ to 2″ with Female to Female ports and 1/2″ to 2″ with Male to Female ports.
Buy our non return valves here
Breakaway Couplings