Hose Guide Reels
Fuel Hose Guide Reels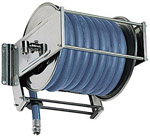 We stock a comprehensive range of fuel hose guide reels. Our range includes hose reels for both 3/4″ & 1″ hose. We offer fixed hose reels, spring rewind and hand cranked hose reels in both stainless steel and painted mild steel.
We also stock wall mounting brackets for your hose reels. We offer Hose reels that will take up to 30 meters of 1″ hose.
Please remember if you need delivery hose we also supply this.