Filters
Fuel Filters
We supply a large range of fuel filters. From heating oil filters to inline fuel filters including canister and water trap filters.
Heating Oil Filters

  The range of inline heating oil filters we do include clear plastic filter bowls and metal filter bowls
  We supply a range of sizes including 3/8″, 1/2″, 3/4″ and 1″ filter heads.
  We also supply paper or stainless steel mesh replacement filter elements in various grades such as 15 and 100 microns.
 Fuel Filters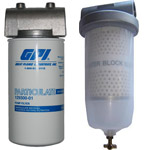 We supply cannester fuel filters, along with the filter heads for flow rates up to 150 litres per minute, for pumped and gravity feed systems. We do various grades including 2,10,30 and 100 microns. In particulate and water block. The water block filters we do come with a filter bowl with a water drain tap for removal of water in the filter.
Duplex Filter System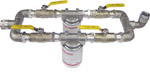 We also offer a complete duplex filter system, enabling you to have an inline filter system complete with shut off valves so you can change your filter cannisters without stopping the fuel flow through your pipework.