Nozzles/Guns
Fuel Dispensing Nozzles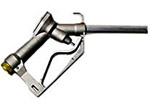 We supply both automatic shut off nozzles as well as manual shut off nozzles, suitable for gravity fed and pumped fuel systems.
We offer a range of nozzles for varying flow rates and fuels, including diesel, AdBlue and other fuel types. Most of our fuel dispensing nozzles come with swivel hose tails and connection required to fit to your fuel delivery hose.
Should you need connections or fuel hose don't forget we do those too. See the relevant sections above.